New Netflix Instant Releases: December 2017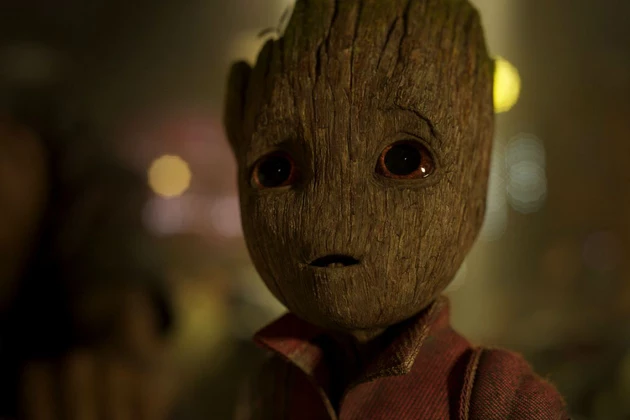 Chestnuts roasting on an open fire…Baby Groot nipping at your toes… That's right. Netflix is giving subscribers an early Christmas gift in December as Guardians of the Galaxy Vol. 2 hits the streaming service — just in time for your family gatherings (or avoidance thereof). Unfortunately, with Disney set to launch their own streaming service, you won't be able to enjoy the studio's films on Netflix for much longer. Thankfully, there are a ton of other great, non-Disney movies hitting the service next month.
Guardians of the Galaxy Vol. 2 is the obvious standout, but there's plenty more to add to your queue in December, including several Netflix Original projects. There's Judd Apatow: The Return, which follows the filmmaker's return to his stand-up roots, and Wormwood, Errol Morris' six-part series which blends fiction with documentary to explore a 60-year-old death mystery. Next month also brings new seasons of Peaky Blinders and The Crown, as well as older favorites like Ace Ventura and The Santa Clause.
Netflix's full December lineup:
December 1
8 Mile
Ace Ventura: Pet Detective
Ace Ventura: When Nature Calls
All Hail King Julien: Season 5 — NETFLIX ORIGINAL
A StoryBots Christmas — NETFLIX ORIGINAL
August Rush
Chef & My Fridge: 2017
Dark: Season 1 — NETFLIX ORIGINAL
Diana: In Her Own Words
Dreamcatcher
DreamWorks Home: For the Holidays — NETFLIX ORIGINAL
Easy: Season 2 — NETFLIX ORIGINAL
Exporting Raymond
Forbidden Games: The Justin Fashanu Story
Full Metal Jacket
Hitch
My Happy Family — NETFLIX ORIGINAL
Nacho Libre
Sahara
The Farthest – Voyager in Space
The Little Rascals
The Wackness
The Young Victoria
Tyson
V for Vendetta
TURN: Washington's Spies: Season 4
Voyeur — NETFLIX ORIGINAL
While You Were Sleeping
December 4
When Calls the Heart: Season 4
December 5
Craig Ferguson: Tickle Fight — NETFLIX ORIGINAL
Marvel's Guardians of the Galaxy Vol. 2
December 6
Trolls Holiday Special
December 8
El Camino Christmas — NETFLIX ORIGINAL
The Crown: Season 2 — NETFLIX ORIGINAL
December 11
Catwoman
The Magicians: Season 2
December 12
Disney's The Santa Clause
Disney's The Santa Clause 2
Disney's The Santa Clause 3: The Escape Clause
Judd Apatow: The Return — NETFLIX ORIGINAL
December 14
41 Dogs in My Home
A&E: When Patients Attack
Ainsley Eats the Streets: Season 1
Halt and Catch Fire: Season 4
December 15
A Five Star Life
Christmas Inheritance — NETFLIX ORIGINAL
Discovering Bigfoot
El Señor de los Cielos: Season 5
Erased: Season 1 — NETFLIX ORIGINAL
Freeway: Crack In The System
Neverlake
Pottersville
Reggie Yates Outside Man: Volume 2
The Haunting of Helena
The Mafia Kills Only in Summer
The Ranch: Part 4 — NETFLIX ORIGINAL
Trollhunters: Part 2 — NETFLIX ORIGINAL
Ultimate Beastmaster — NETFLIX ORIGINAL
Wormwood — NETFLIX ORIGINAL
December 18
Hello, My Twenties!: Season 2 – NETFLIX ORIGINAL
December 19
Miss Me This Christmas
Russell Howard: Recalibrate — NETFLIX ORIGINAL
The Indian Detective: Season 1 — NETFLIX ORIGINAL
You Can't Fight Christmas
December 20
La Casa de Papel: Season 1 — NETFLIX ORIGINAL
December 21
Peaky Blinders: Season 4 — NETFLIX ORIGINAL
December 22
72 Dangerous Animals: Latin America: Season 1 — NETFLIX ORIGINAL
Bright — NETFLIX ORIGINAL
Dope: Season 1 — NETFLIX ORIGINAL
Fuller House: Season 3, New Episodes — NETFLIX ORIGINAL
Rosario Tijeras: Season 1
The Toys That Made Us: Season 1 — NETFLIX ORIGINAL
December 23
Creep 2
Myths & Monsters: Season 1
December 25
Cable Girls: Season 2 — NETFLIX ORIGINAL
Planet Earth II
December 26
Todd Barry: Spicy Honey — NETFLIX ORIGINAL
Travelers: Season 2 — NETFLIX ORIGINAL
All Hail King Julien: New Year's Eve Countdown 2018
Beat Bugs: New Year's Eve Countdown 2018
Larva: New Year's Eve Countdown 2018
Pororo: New Year's Eve Countdown 2018
Puffin Rock: New Year's Eve Countdown 2018
Skylanders Academy: New Year's Eve Countdown 2018
Trollhunters: New Year's Eve Countdown 2018
True and The Rainbow Kingdom: New Year's Eve Countdown 2018
Word Party: New Year's Eve Countdown 2018
December 27
Pusher
December 29
Bill Nye Saves the World: Season 2: Part 1 — NETFLIX ORIGINAL
Killer Legends
La Mante: Season 1 — NETFLIX ORIGINAL
Shelter
The Climb — NETFLIX ORIGINAL
December 31
Dave Chappelle: Equanimity — NETFLIX ORIGINAL
Fun Mom Dinner

Source:
New Netflix Instant Releases: December 2017